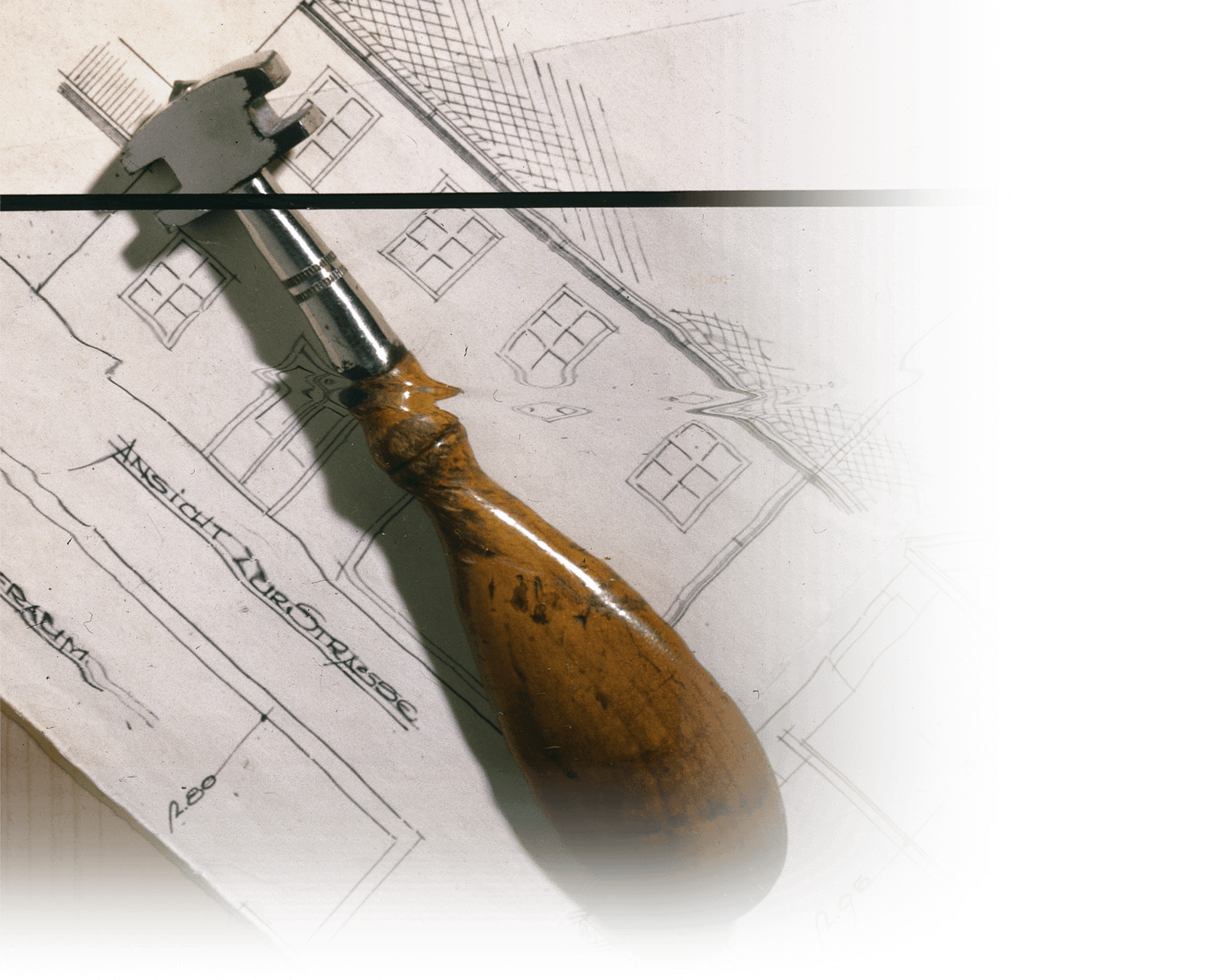 Glass working techniques
Today's glass processing methods include: Cutting to the appropriate size and shape with high-pressure waterjet or laser, drilling, grinding, sawing, and edge polishing. Heating furnaces are used to form and bend glass.
Today's glass processing methods include: Cutting to the appropriate size and shape with high-pressure waterjet or laser, drilling, grinding, sawing, and edge polishing. Heating furnaces are used to form and bend glass.
Pure effects
Real handwork
Mouth-blown coloured glass produced by Glashütte Lamberts is normally delivered to the processing firms in their original sizes of approx. 60x90 cm (24" x 36"). The assortment of colours and types of glass is unsurpassed in their transparency, surface structure and seediness. The resulting 5000+ variations of colour and texture places our firm in a unique position in its field.
For the manufacturer or the artist, the glass properties of cutting and processing are of special importance. An even thickness and a carefully controlled annealing procedure guarantee a handling process with minimal waste of the valuable glasses.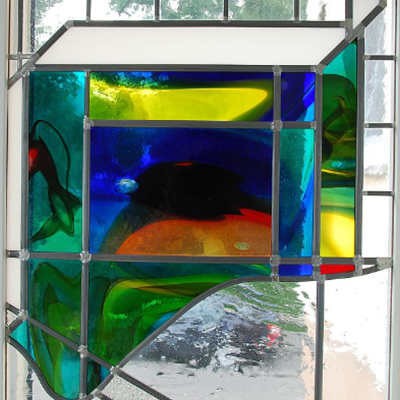 Lead Glazing
The glazing of windows goes back to medieval times: Lined up one after the other, the small glass pieces held together by grooved leaden rods produce panes of glass of even larger sizes. If the trade originally had the possibility to build larger window openings with the relatively small handmade glass pieces glazed and placed next to one another, the art of using lead profiles as a graphic element must have quickly developed.
Due to the enormous variety of colours and the vast number of textures of mouth-blown LambertsGlas® modern and traditional lead glazings in any combination of colour and style can be achieved.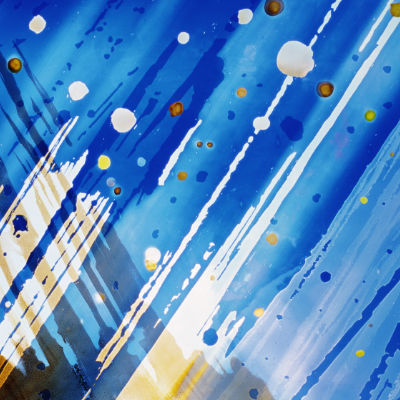 Etching
The Flashed-Glass is a special product of LambertsGlas®: A carrier glass is overlaid with one, two or sometimes three layers of colour, approx. 0,1 to 0,3 mm thick. These layers can be masked – similar to the batik technique – and etched with acid. Extremely picturesque effects can be brought about this way. Up to three different colours lying on top of each other can thus be blended together. In addition, enamel colours can be applied so that a watercolour effect is created by the Flashed Glasses. Working with the aggressive acid requires due care and attention on the part of the artist craftsman. An endless variation of colour combinations thus comes into being.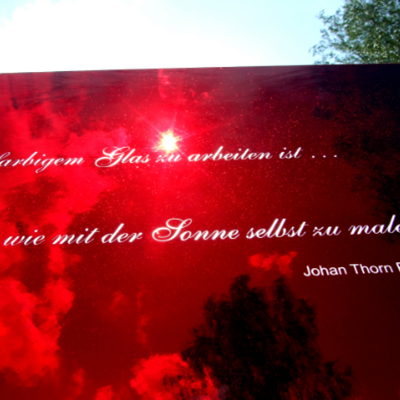 Sandblasting
Flashed glasses can also be manipulated by means of sandblasting. However, the surface of the glass in this case retains a frosted texture which evenly diffuses transmitted light. Transparent non-flashed glasses exposed to sandblasting have a frosted surface.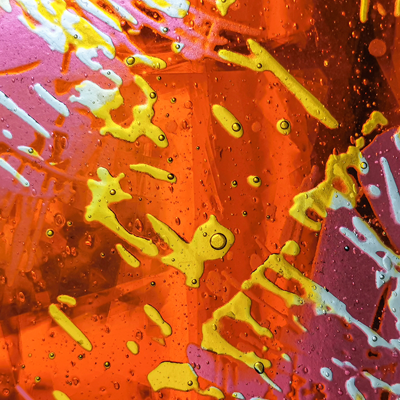 Double Lamberts flashed glass:
Gold pink on clear, sandblasted + Special yellow on clear, sandblasted. The two panes were laminated onto an inner support pane from both sides.
Artist: Andreas Hart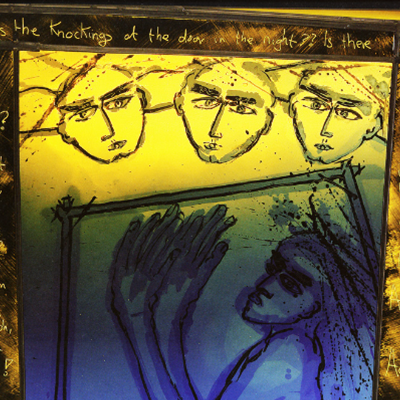 Painting
The combination of different colours inside a piece of mouthblown LambertsGlas® combined with the processes of etching and sand blasting, can be further enhanced with the technique of painting on glass to open additional variations of colour and design. The outlines are emphasized by means of black paint and contour colours. The enamel colours and glazes can also be applied by silk-screen printing and fired into the glass at a temperature of approx. 600 degrees °C or by means of digital printing. Digital printing requires a lower firing temperature of approx. 150 degrees °C. Through application of enamel colours and silver stain onto the glass surface and applying covering colours, additional shades are achieved. Painting on glass allows the artist the ability to effectively bring the viewer's attention to the interplay of colours.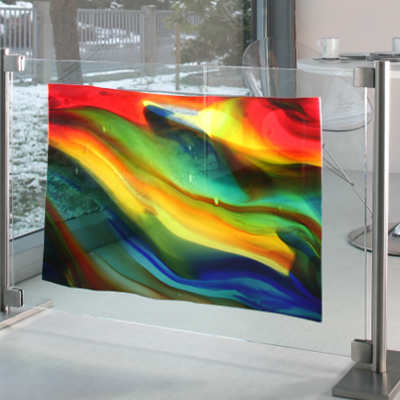 Liquid Lamination
Cast resin or 2-component silicones provide an alternative method of laminating LambertsGlas®. These materials can be applied in different ways and are used by qualified companies to construct glass pictures or glass paintings without lead lines and to form individual glazing units of large dimensions. In this case the pieces of glass are superimposed on a carrier sheetwhich meets the requirements of the law as a protective glazing and/or the provisions for heat insulation or fire protection. The decorative and artistic elements of these functional glazing units are achieved through the application of LambertsGlas®.
Assembling with Ultraviolet Adhesive
Small pieces of glass are connected by means of an adhesive which hardens in a short time when exposed to ultraviolet light.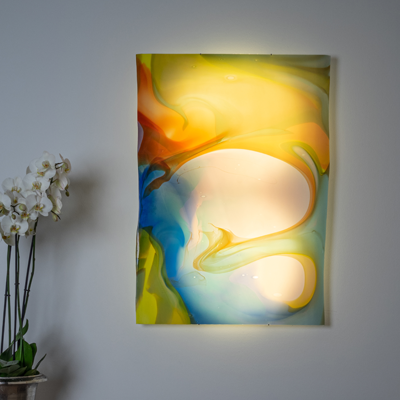 Splinter Protective Coating
Under special circumstances the application of a splinter protective coating can be sufficient when it comes to guaranteeing the protection of the public. The almost transparent film prevents a damaged coated sheet of LambertsGlas® from falling apart and offers protection from major injuries.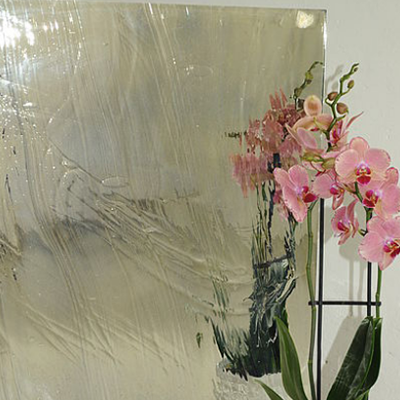 Creation of a Mirror Effect
Mouth-blown LambertsGlas® furnished with a mirror effect has been well received. The mirror effect changes various shades of yellow into shining gold. One sees a particularly beautiful effect when light is reflected off the striated surface of the glass.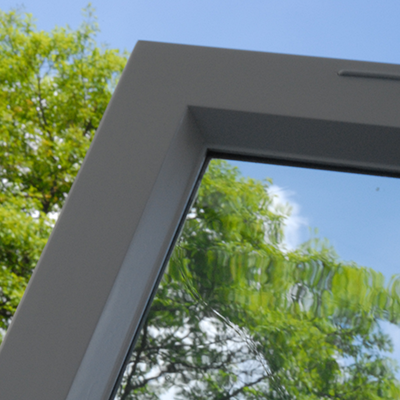 Insulating Glass
LambertsGlas® can be used in double or triple glazed units. Particularly in restored windows the genuine effect of this glass is proof of its authenticity. Mouth-blown LambertsGlas®, even as a lead glazing, can be incorporated into the middle of a triple glazed unit.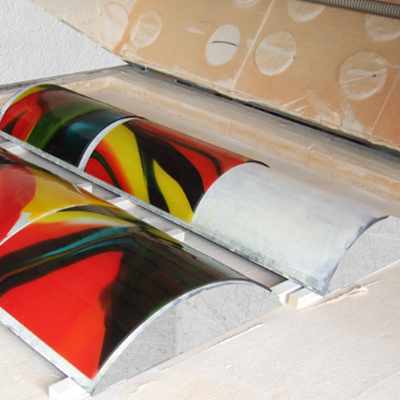 Bending of Glass
On special occasions there can be a need to bend glass sheets or adapt them to a curved surface. Mouth-blown LambertsGlas® can be easily bent and curved.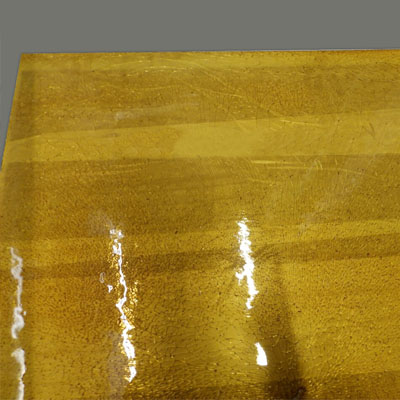 Thermal toughening
With thermally toughened glass, we achieve higher flexural stress and thermal strength. Our tempered, hand-blown window glass (restoration glass / antique glass) can be used for attachment or lantern glasses, for example. Hand-blown antique glass is thermally toughened at Sollingglas. For example, it is used as safety glass in restoration. This is achieved through a special process that 100% meets your requirements such as monument protection and building regulations, energy efficiency, safety aspects and UV protection.
Please contact us to learn more about it. We would also be happy to explain the benefits to you from the point of view of those involved, such as architects, builders, preservationists, state monument conservators, master builders, carpenters and others.
Photo: Sollingglas (fracture image)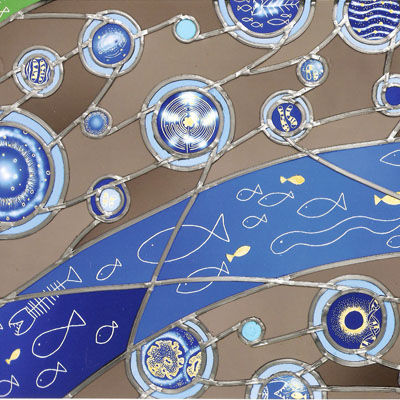 Engraving / Polishing / Grinding
Filigree and artistic designs can be achieved by engraving, polishing and grinding with various suitable glass processing tools. The hand-blown flashed glasses are particularly suitable for this.
Artist: Uwe Fossemer
Photo: Studio Ernst
Flashed glass ground and engraved, polished and lead glazing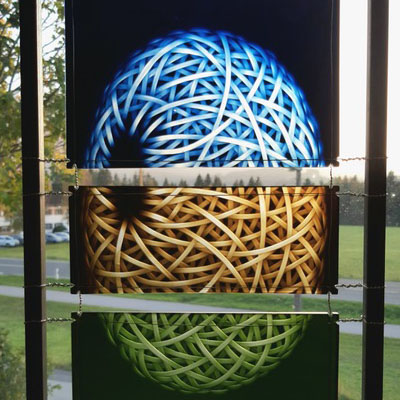 Artist: Wilhelm Vernim
Lamberts flashed glass, engraved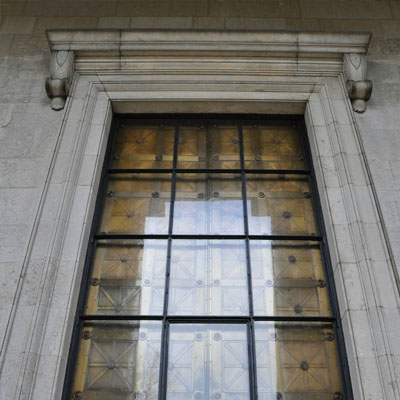 Laminated glass
The safety properties of hand-blown flat glass can be significantly increased by further processing into laminated glass.
Image: Walhalla Regensburg (restoration north window)
Glass: restauro® light 2mm, as laminated glass
Execution: Haber & Brandner GmbH, Regensburg