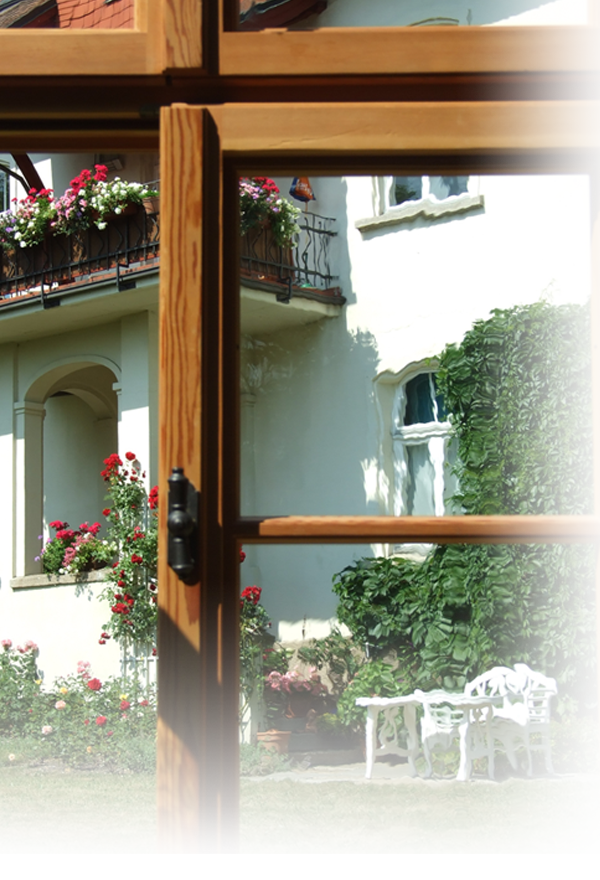 Perfect monument preservation
Glass variety
As an essential part of façades, windows play a major role in shaping the character of a building and reflect the specific features of the building period. For the authentic overall appearance of a historical façade, the role of the glass that is used should not be neglected. The style of the handmade, mouth-blown, clear restauro® flat glass corresponds to the only glass that was available for window glazing from the Middle Ages to the beginning of the 20th Century. With its typical, slightly uneven surface, scattered little bubbles and streaks, the glass fits perfectly into the basic structure of the historical building. LambertsGlas® restauro® is the ideal complement to the original existing historic glass of a building. It can restore the stylistic unity of façades, window frames and glazing in an authentic manner which is often lost.
restauro® is purely a handcrafted flat glass.
restauro® is predestined for the true-to-life restoration of historic window and furniture glazing of the beginning of the 20th Century and earlier time periods.
restauro® has more or less pronounced distortions in the surface with scattered little bubbles and streaks which are the charcteristics of mouth-blown glass.
restauro® is manufactured in different dimensions, glass thicknesses and with a slightly or pronounced distorted surface.
restauro® is used in preventive conservation as protective glazing.
restauro® can be produced with a slight tint to harmonise with existing, original glass, upon request. (restauro® Waldglas)
restauro® is available with additional tool marks worked into the glass surface to harmonise with the existing, original glass. (restauro® Extra)
restauro® can be processed as insulating glass as well as laminated glass. Moreover, it can be thermally toughened (tempered). Acoustic insulation glass is also possible.
Genuine Lamberts Restoration Glass (cylinder glass) is specially crafted traditional window glass to meet the requirements for renovation of old buildings, the preservation of historical monuments and restoration of antique furniture.
Until the early 20th century, all window-glass used to be manufactured by gaffers with blowpipes. Glashütte Lamberts has preserved these production techniques and provides the authentic charakter of historic window-glasses until today.
Mouthblown original Lamberts Restoration Glass is an indispensable part of every glazing restoration, that requires the original air of historic windows.
Production
Mouth-blown flat glass is real craftsmanship. In the Lamberts glassworks, as one of the last production facilities in the world, this glass is still produced using the centuries-old craftsmanship that has hardly changed to this day.
Glassmakers form the viscous glass mass into an elongated glass balloon by turning and blowing on the glassmaker's pipe.
Cut open on both sides, the result is a glass cylinder which, when cooled, is cut open lengthwise and, after being reheated, is opened and stretched into a flat sheet of glass.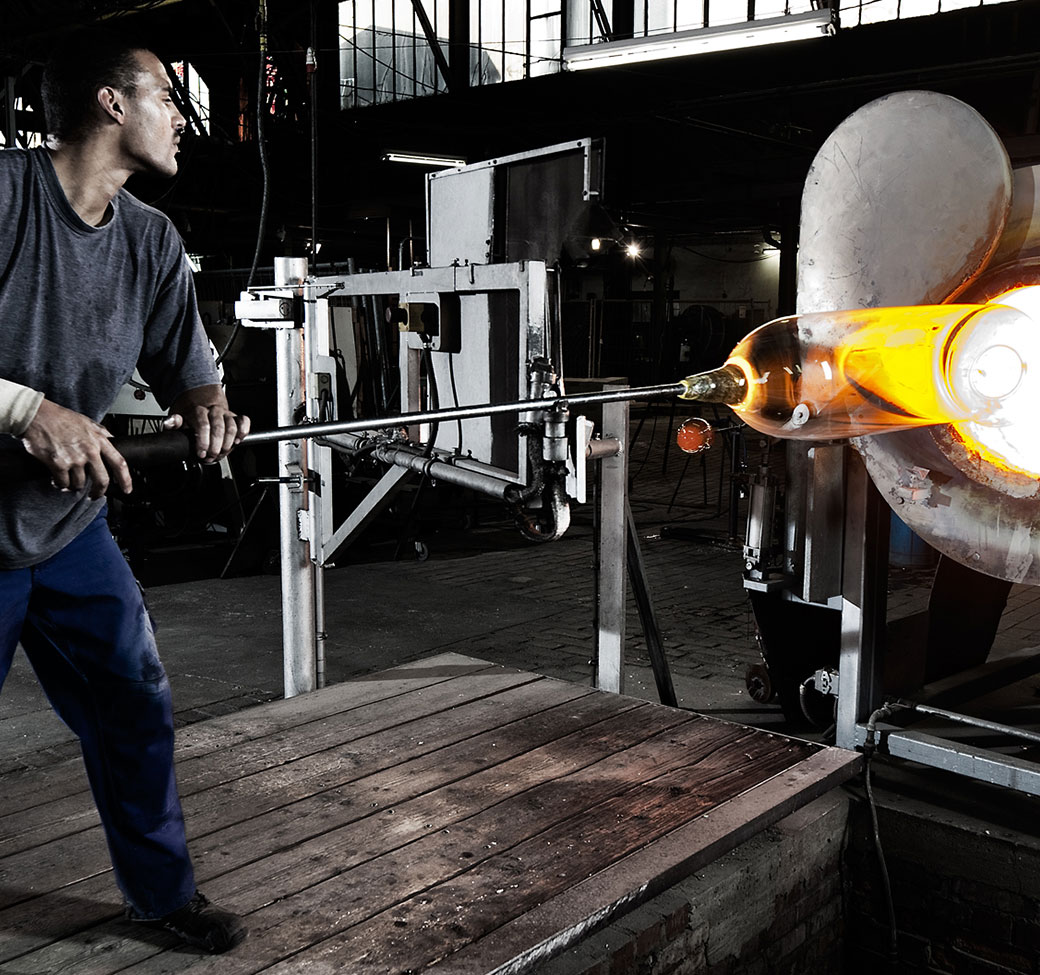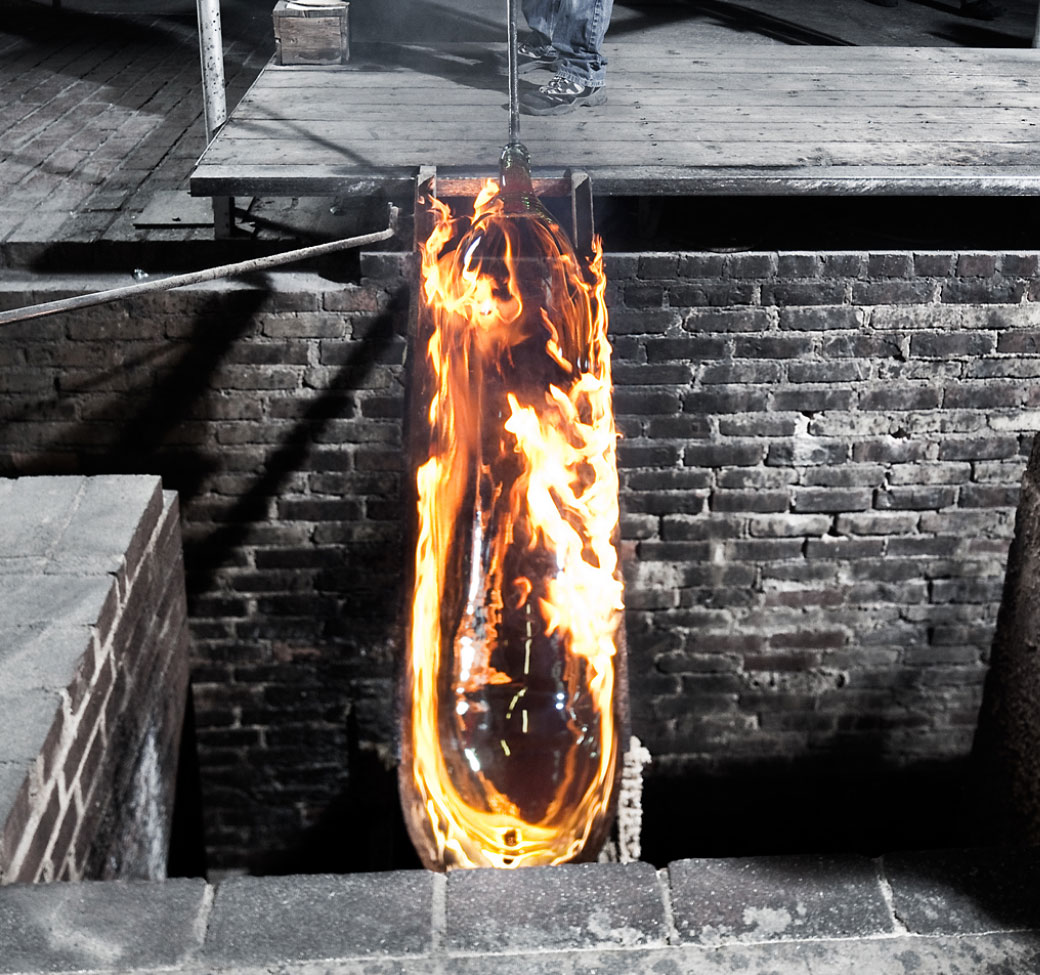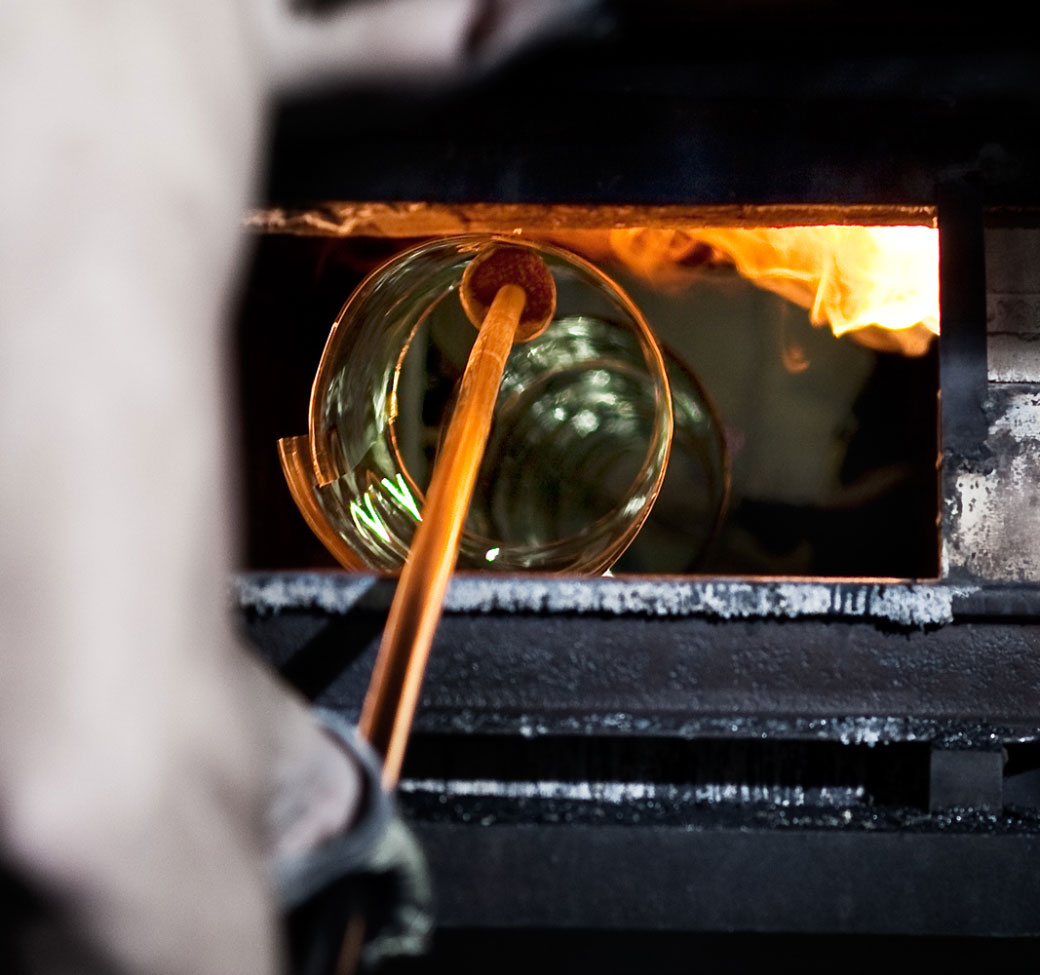 "quality check restauro(R) ".
Here you can see the texture of genuine mouthblown and handcrafted window glass

Here the Science Channel (How it's made) reports on our hand-blown window glass.
The special features of our restauro®-window glass:
The mouth-blown Lamberts Original Restoration Glass (so-called cylindrical glass / cylinder stretch glass) is an indispensable component of any restoration project which needs to satisfy the requirements for this classic type of glazing.
There are a multitude of further processing options for our mouth-blown window glass. Is can be used as a hardened (pre-stressed) single pane, as an outer pane in insulating glass or as laminated glass.
The result is a perfect symbiosis between contemporary thermal insulation and historically correct appearance.
Handcrafted window glass is used whenever the sharp and hard reflections of machine-made glass are to be avoided in order to preserve or regain the original appearance of historical buildings.
Depending on the period and architectural style (Romanesque / Baroque / Rococo / Classicism / Historicism / Art Nouveau / Bauhaus Style / New Building and Modernism), we offer you the appropriate glass.
Mouth-blown restoration glass is the first choice for authentic monument preservation.

Please contact us, we will be happy to assist you with your selection!
Varieties of LambertsGlas restauro®
restauro® Light 2 mm
Without any mold our craftsmen form the glass cylinder by blowing in the blow pit. This gives restauro® Light its smooth surface. Slight distortions and subtle, occasional reams are its prominent feature. Beside the use as window-glass, we recommend restauro® Light 2 mm for furniture-restoration and -glazing. Sizes: ca. 85 x 100 cm (33" x 39").
Thickness: ca. 2 mm (1/12")
restauro® Light 2 mm video
restauro® Light 3 mm
restauro® Light 3 mm has similar optical properties to restauro® Light 2 mm. Its thickness of 3 mm is suitable for insulation glasses with sizes up to 80 x 85 (31" x 33") cm.
Thickness: ca. 3 mm (1/12")
restauro® Classic 3 mm
Manufactured in old tradition, restauro® Classic 3 mm resembles the authentic look of window glasses from the 17th and 18th century. The distortions in its appearance are pronounced and especially suited for glazings of colonial-style windows and as part of insulation glass for better thermal insulation.
Sizes: ca. 60 x 90 cm (24" x 36")
Thickness: ca. 3 mm (1/8")
restauro® Classic 3 mm video
restauro® Waldglas
Waldglas is the German term for mouthblown window-glass with a slight greenish coloring that is typically found in original, ancient window glass. restauro® Waldglass can be produced on request as both, restauro® Light and restauro® Classic.
restauro® Waldglas video
restauro® Extra
For customers that set a stronger value on authenticity we ask our glass-blowers to pay special attention to creating that special look that is typical for original glazings. Distortions are stronger and reams more frequent. Features that mimic glass being produced under much harder conditions, as it was a 100 years ago.
Sizes: ca. 85 x 100 cm (33" x 39")
Thickness: ca. 2 - 3 mm (1/10")
restauro® UV
restauro® UV is the only UV-protection glass where the filter is directly integrated. There is no film, no coating, no lamination. restauro® UV filters daylight and protects against UV-rays below 400nm. It can be used for traditional lead glazing as well as double glazing and laminated glass.
Various dimensions are available on request.
More information can be found here
Fields of application
The preservation of historically valuable buildings is of great importance today. The window and its effect have a considerable bearing on the appearance of a building facade.
In terms of monument preservation, restoration with preservation glass manufactured according to original procedures is the only safe and correct way!
Alternative, machine-made, historicizing products on the other hand, often clearly disfigure an old building facade!
Glass produced according to the original mouth-blowing procedure fits into the facade easily and unobtrusively. Replacement products from industrial production, on the other hand, are immediately obvious and irritating to the eye, due to the regularity of their appearance and reflection!
The repair and maintenance of historic window constructions requires a high level of craftsmanship and knowledge.
Simply contact us, we will be happy to assist you with your selection!
Frauenkirche | Dresden, Germany
Restaurant "Glanzers Michl" | Schesslitz, Germany
Ludwigsburg Castle
Metropolitan Museum of Art | New York
Monument Preservation
Our restoration glass ("cylinder glass") is flat glass specially tailored to the requirements of high-quality renovation of older homes, buildings, monument preservation and furniture restoration.
Our mouth-blown window panes are offered in a wide variety of finish options. It can be supplied as a hardened individual pane, or as an external pane for insulating glass or laminated glass.
Our restauro® glass is available in many variants. We would be happy to advise and supply the right solutions if you require authentic UV, infrared or other protective glazing.
Mouth-blown window glass – only the original is authentic!
Gold medal for highest quality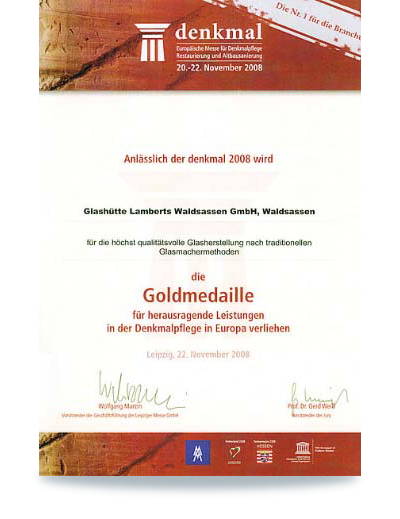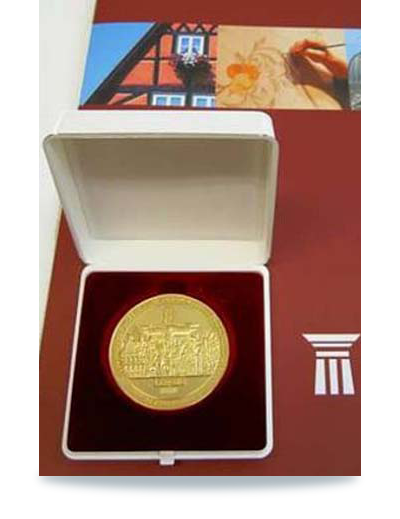 Here you can see a short video, which should give you a better idea of the character of these glasses: